If you are looking for a charity corporate partnership that will make our voices and those of animals louder – then you should consider partnering with us! We look for specific partners that align with our brand values, mission and vision to create a kinder society where persecuting animals in the name of 'sport' is in the past. If your business would like to help us raise money to change the future for our persecuted wildlife, then we would love to hear from you.
All corporate partnerships will benefit you and the League, from small business owners to professional organisations. For your business a successful partnership might mean increased media exposure, involving your employees, as well as simply making a positive impact in your local community.
Volunteering
Volunteering with us is a great way for your business, and your employees, to engage with nature and help protect our precious wildlife for future generations. We own nine wildlife sanctuaries around Exmoor, Dartmoor and the Quantock Hills where an abundance of wildlife thrive in peace.
We can arrange a full life-enhancing day working on a project that is suited to the abilities and interests of your colleagues. A typical day could include woodland management including coppicing, clearing and replanting, - habitat creation including owl, bird and bat boxes and maintenance including fixing, fencing and pond maintenance. You will be given guidance, advice and expert knowledge about wildlife from one of our Conservation experts.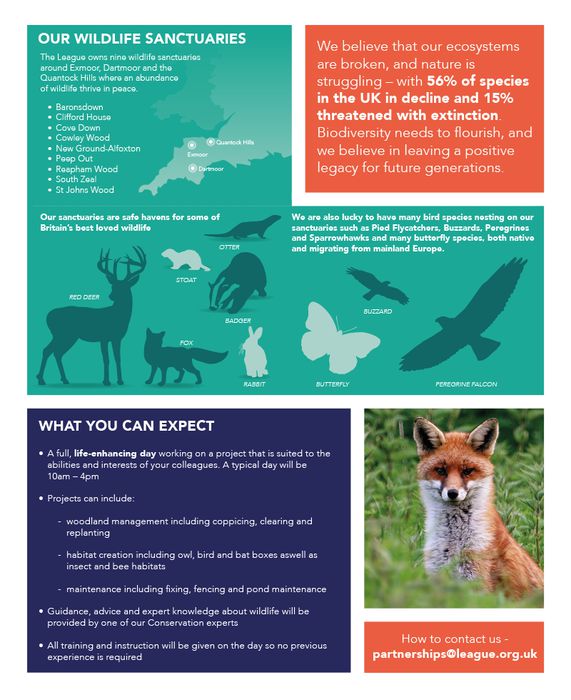 Giving to charity through your payroll
Payroll Giving is the most tax-efficient way to donate to charity, allowing your employees to help persecuted wildlife every time they're paid.
For example, a £10 a month donation could only cost £8, because Payroll Giving donations are deducted before tax, so we receive more money at no extra cost.
This provides us with a steady source of income. Knowing that we will receive these gifts can make all the difference, as it means that we can plan more effectively to help future persecuted wildlife.
Don't have a Payroll Giving Scheme?
If your business doesn't have a Payroll Giving scheme, you can contact a Payroll Giving agency to set up one up. You will then make deductions each time you run payroll. The donation will be taken from your employees' pay before tax but after National Insurance. You then simply send the donations to your agency and they'll pass them on to the employees chosen charities.