League supporters run half marathon to tackle animal cruelty
Monday, April 4 2022

The supporters ran the London Hallmarks Half Marathon to raise money for leading animal welfare charity the League Against Cruel Sports.
Lorna Cook, one of the runners, said: "I had never run a half-marathon before - or any other race! But I was spurred on by my desire to help the animals forced to run for their lives and persecuted in all manner of horrific ways in the name of 'sport'.
"I was also running in memory of my fiancé Sam who died last year and who was a passionate advocate for animals, loved wildlife and always sought to protect and defend the vulnerable and defenceless."
Ian Duffield, who also ran the half marathon, said: "I am lucky enough to be running the London Landmarks Half Marathon on behalf of the League Against Cruel Sports, to raise awareness for the plight of animals mistreated and persecuted in the name of sport.
"So many of these acts go unreported and more legislation and coverage is needed to highlight the idea that it's not OK to harm or kill an animal in the pursuit of so-called fun."
Andy Knott, the League Against Cruel Sports chief executive, said: "Our wonderful supporters are helping to fund our vital work in tackling sickening blood sports like fox hunting and 'game' bird shooting which blight our countryside.
"You can help tackle blood sports too by making a donation, no matter how large or small, to our fundraising page. These fundraising sites are easy to use and you will be helping to challenge the horrific animal cruelty still taking place in England in the name of 'sport'."
Donations can be made at our Just Giving page here:
https://www.justgiving.com/campaign/leaguellhm2022
The League has launched its Enough is Enough campaign in 2022 aimed at ending fox hunting for good by strengthening the Hunting Act.
ENDS
Notes to Editors
For more information or interview requests please contact the League Against Cruel Sports Press Office on 01483 524250 (24hrs) or email pressoffice@league.org.uk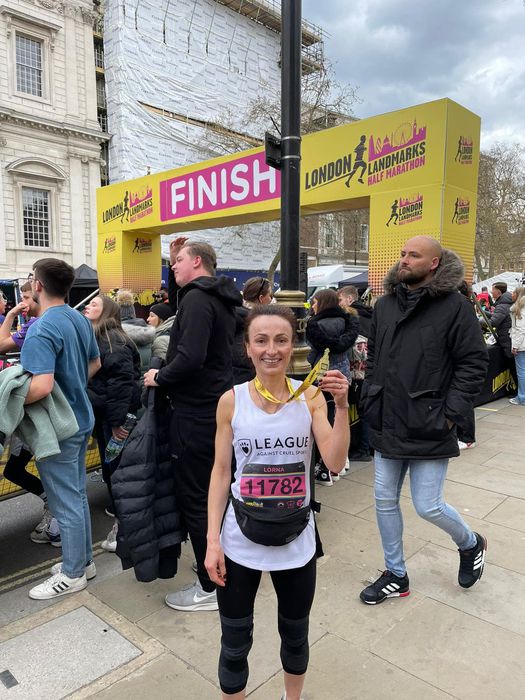 Lorna Cook at the finish line of the London Landmarks half marathon raised funds to tackle animal cruelty.