Greyhound Racing - Only a complete ban will do, say the League Against Cruel Sports
The League Against Cruel Sports has been campaigning with residents to stop greyhound racing coming back to the city of Oxford since 2018. Despite our best-efforts, cruel greyhound racing returned to the city in August 2022.
Regardless of pressure from Labour, Lib Dem and Green councillors Oxford City Council failed to speak out against greyhound racing. In July this year, city councillors voted for the council to write to the government to ask that legislation be passed to incorporate recommendations made by the environment, food and rural affairs committee to improve the welfare of racing dogs.
In October 2022 the League, PETA and Oxford Vegan Action wrote a letter to the city council asking if this action had been carried out. we're still waiting for a reply.
Last week the Oxford Mail revealed that trainer Mr F Gray was cautioned for a breach of rules in respect of using electrolytes in the paddock at Oxford Stadium on 1 October 2022.
It makes you wonder what other rules are being broken.
The Greyhound Board of Great Britain (GBGB) say they make these rules to keep greyhounds safe, yet we see injuries and deaths every year.
The latest figures released by the GBGB showed that there were 4,422 injuries in 2021 and 120 deaths. One death is too many!
A report published in 2021 by Professor Andrew Knight concluded that racing will never be never be safe for greyhounds due to the speeds they run and the design of the tracks they race at.
However, it's not only racing conditions that are tough for greyhounds but often their living conditions. Many live in kennels in appalling conditions as one of our members of staff witnessed when he visited Hillside a few years ago. The film is available on You Tube you tube.
In September 2022 the Blue Cross, RSPCA and the Dogs Trust changed their policies and joined us in calling for a complete ban on greyhound racing.
Greyhound racing is a dying business. Across the UK voices are getting louder in opposing this cruel 'sport'.
Wales has one stadium where greyhound racing still takes place, the Valley Greyhounds Stadium, in Ystrad Mynach. This independent track is currently unregulated, with no requirements for veterinary presence at the stadium.
This could soon change if it finds itself under the regulation of GBGB. This means that the number of races at the track could significantly increase, along with the amount of injured and surplus dogs.
The Welsh Government has committed to the potential licencing of greyhound racing in Wales.
The League Against Cruel Sports is among many organisations who are calling on the government to ban the so-called 'sport' instead.
With just one track affected, a ban on this cruel pastime in Wales is looking increasingly achievable.
League Scotland will continue to support One Kind and local groups calling for an end to greyhound racing in Scotland. You can read thoughts from our friend, One Kind's CEO, Bob Elliot in his recent article in the Herald
Nothing but a ban will do to protect these wonderful dogs from persecution in this cruel sport.
Take Action and support us in our call to ban greyhound racing.
Join us outside Oxford Stadium for a peaceful demonstration on Saturday 25 March.
Join a supporter group near you and help amplify our calls to ban greyhound racing across the UK.
If you live in Wales please write to Members of the Senedd, calling for a ban on greyhound racing https://senedd.wales/find-a-member-of-the-senedd/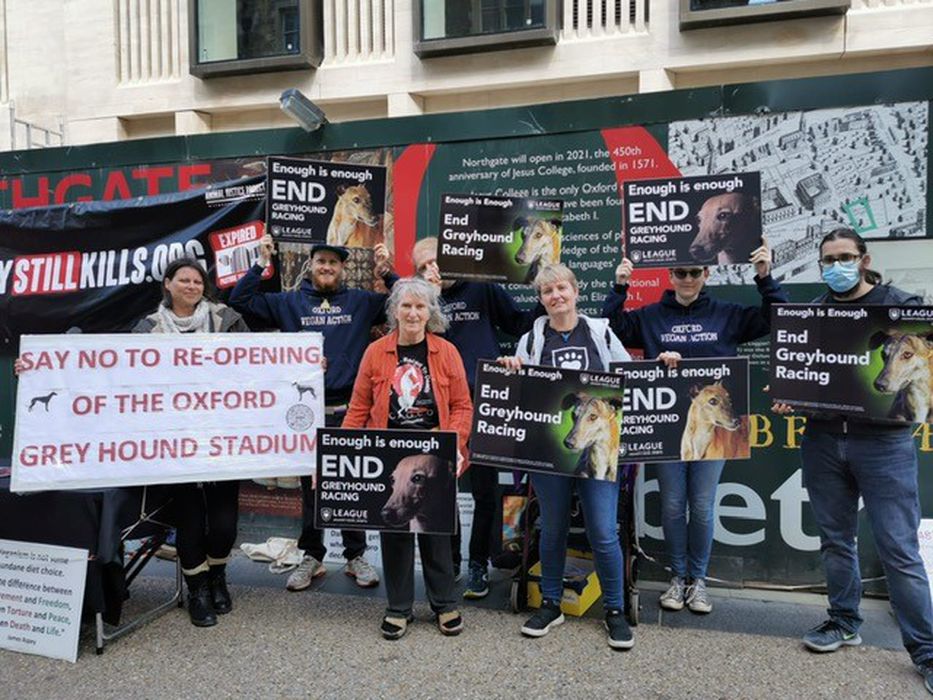 Animal Charities, League Against Cruel Sports, PETA and Oxford Vegan Action, protest return of greyhound racing to Oxford