Celebrations outside the Senedd as Wales bans brutal wildlife traps
Senedd Members joined animal welfare campaigners from the League Against Cruel Sports this evening, celebrating a historic vote to ban snares in Wales.
It followed the unanimous passing of the Agriculture (Wales) Bill in the Senedd earlier today which contained measures to outlaw these cruel and indiscriminate wildlife traps.
Will Morton, head of public affairs at the League Against Cruel Sports, said: "The Welsh Government deserves huge credit for banning snares, inherently inhumane traps, which are completely incompatible with high animal welfare standards.
"Wales is leading the way in protecting wildlife from cruelty and we're calling on the UK and Scottish Governments to follow their lead and ban these brutal devices."
The attendees included 13 members of the Senedd as well as animal welfare campaigners from across Wales.
Up to 51,000 snares lie hidden in the countryside at any one time according to UK government figures. Defra figures
They are used predominantly by shooting industry gamekeepers on pheasant and partridge shoots to trap wildlife.
The same Defra research show almost three quarters of the animals caught are not the intended target species. So, this will include hares, badgers and people's pets.
Polling carried out by YouGov in Wales in January 2021 showed 78 per cent of the Welsh public wanted snares to be made illegal.
The ban will come into force two months after receiving royal assent so snares should become illegal in Wales later this year.
Will Morton added: "Today we are celebrating the move to end the cruelty inflicted on animals by the use of barbaric snares, something that will have the support of the vast majority of the Welsh people.
"It's a fantastic move for animal welfare and we look forward to snares being banned in the rest of the UK soon."
Ends
Notes to editors
Photo one: Members of the Senedd at the celebration this evening.

Full polling results are available here.
For more information or interview requests please contact the League Against Cruel Sports Press Office on 07496 496454 (24hrs) or email pressoffice@league.org.uk
The League Against Cruel Sports is Britain's leading animal charity that works to stop animals being persecuted, abused and killed for sport. The League was instrumental in helping bring about the landmark Hunting Act 2004 and the Animal Welfare (Sentencing) Act 2021. We carry out investigations to expose law-breaking and cruelty to animals and campaign for stronger animal protection laws and penalties. We work to change attitudes and behaviour through education and manage wildlife reserves. Find out more about our work at www.league.org.uk. Registered charity in England and Wales (no.1095234) and Scotland (no.SC045533).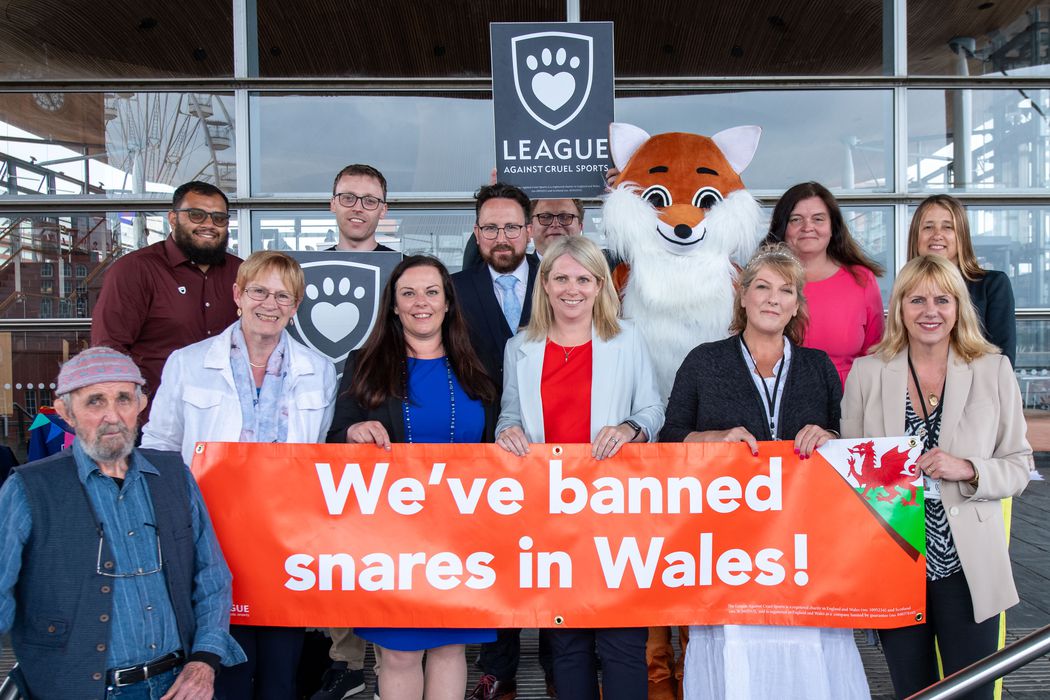 Members of the Senedd join animal welfare campaigners to celebrate the ban on snares in Wales