Campaigners in Cirencester call for council support to end fox hunting
Campaigners from the national animal welfare charity the League Against Cruel Sports were in Cirencester today to launch a campaign calling on Cotswold District Council to ban fox hunting on its land.
The launch coincided with the release of a new shocking set of figures showing Gloucestershire was the worst county in England and Wales for suspected illegal hunting by fox hunts and incidents in which they wreaked havoc on rural communities.
Emily Lawrence, regional campaign manager for the League Against Cruel Sports, said: "Gloucestershire is a hotspot for suspected illegal fox hunting and incidents involving anti-social behaviour by hunts.
"It's time for change. Local authorities can help make Gloucestershire hunting free by denying hunts the land they need to carry out their cruel and squalid activities."
The campaigners, including the friendly League fox who entertained families today, met in the Market Place outside the historic Parish Church of St John Baptist.
The public were encouraged to sign a petition asking councillors and policy makers to do everything in their power to end fox hunting in Gloucestershire.
This would involve Cotswold District Council banning all hunting with hounds including trail hunting – the excuse often used by hunts – on its land.
The League believes trail hunting is a cover for illegal hunting, designed to deceive the public and the authorities.
A fox hunting ban came into force in England and Wales in 2005 but hunting with dogs is still rife – Gloucestershire has 17 hunts still operating across the county. Cirencester is also home to the British Sport Hound Association, the governing body of hunting.
Emily added: "We are calling on the Gloucestershire public to back this campaign by signing our petition to end hunting in the county.
"It's part of a vital national campaign to strengthen hunting laws in England and Wales to help end fox hunting once and for all."
Ends
Notes to editors
Enclosed are photos of the League Against Cruel Sports fox, campaigners and members of the public in Cirencester.
Photo one: The League fox and campaigners in Market Place.
Photo two: The League fox and campaigner Paul Richardson.
Photo three: The League fox with campaigner Margaret Burbidge (left ) and Anna Shaw (right).

For more information or interview requests please contact the League Against Cruel Sports Press Office on 07496 496454 (24hrs) or email pressoffice@league.org.uk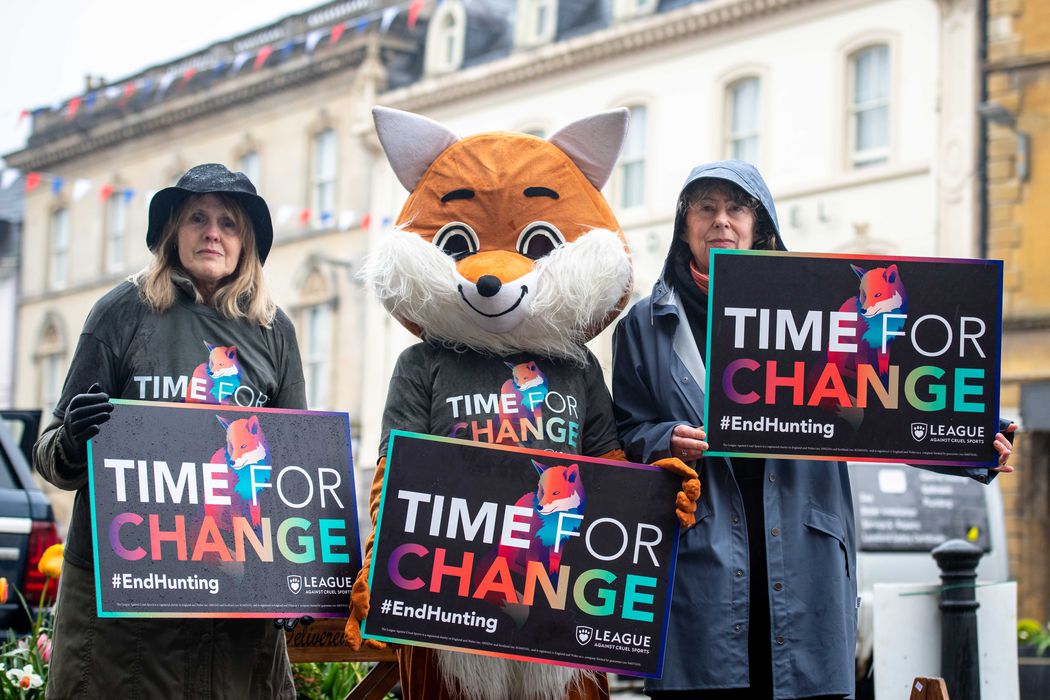 The League fox with campaigner Margaret Burbidge (left ) and Anna Shaw (right)