OCTOBER 2021: DIRECTOR OF THE MASTERS OF FOXHOUNDS ASSOCIATION FOUND GUILTY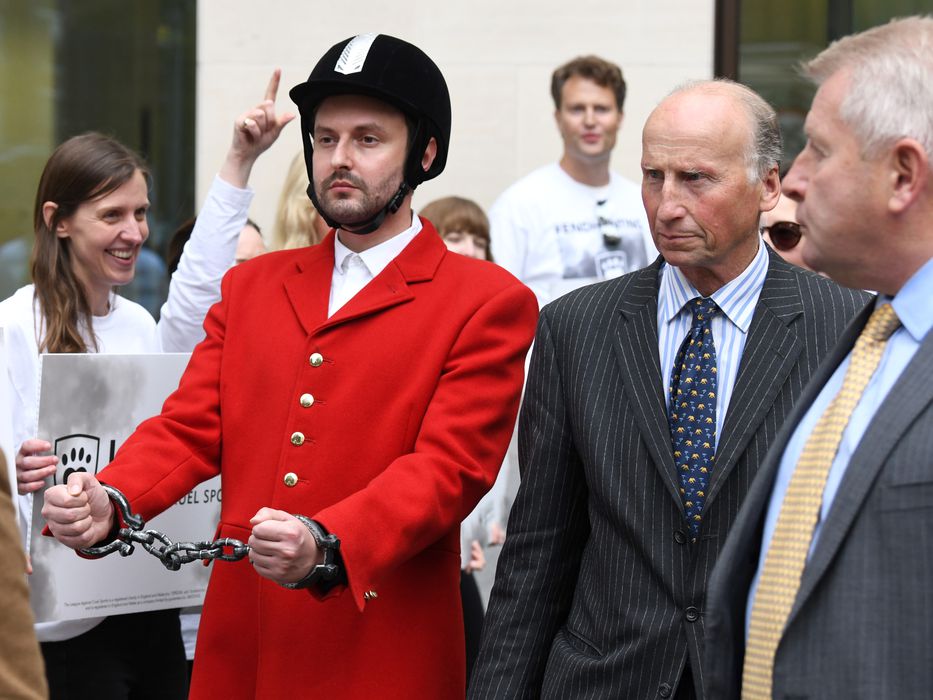 GUILTY: Mark Hankinson leaves Westminster Magistrates Court
Director of the Masters of Foxhounds Association found guilty of intentionally encouraging or assisting others to commit an offence under the Hunting Act
Charity says today's conviction makes Scottish Government's Fox Control Bill even more relevant
Mark Hankinson, director of the Masters of Foxhounds Association has today (Friday) been found guilty of intentionally encouraging or assisting others to commit an offence under the Hunting Act by telling them how to use the excuse of so-called 'trail' hunting to get away with hunting real animals.
The League Against Cruel Sports says the conviction of Mr Hankinson shows the hunts have been mocking the police, the Crown Prosecution Service and up to the very top of the British judiciary for the past 16 years.
Mr Hankinson was charged after footage was leaked showing senior figures within the fox hunting lobby appearing to admit that 'trail' hunting is a "smokescreen" for the chasing and killing of foxes.
The leaked footage of two Zoom training meetings involved those at the very heart of hunting including Lord Mancroft, chairman of the Masters of Foxhounds Association (MFHA); Mark Hankinson, MFHA director; Phillip Davies, Countryside Alliance police liaison officer; and more than 100 hunt masters, representing more than half of the country's fox hunts.
Judge Tan Ikram, deputy chief magistrate of England and Wales, read out key parts of the webinar transcripts in his remarks, before saying: "In my judgement he was clearly encouraging the mirage of trail laying to act as a cover for old fashioned hunting.
"Perhaps most incriminating was the advice that trail laying had to be as 'plausible' as possible. There would be no need to suggest that [a trail layer] would be needed unless it was a sham or a smokescreen."
Trail hunting was introduced as a sport after the Hunting Act came into force in 2004 as a way of hunting in a manner similar to traditional fox hunting. Trail hunting was never introduced in Scotland due to the Protection of Wild Mammals (Scotland) Act 2002 including provisions which allowed hunts to take out a full pack of hounds. However, the Scottish Government has recently committed to introduce a Fox Control Bill which will strengthen the law north of the border. The Bill will include measures to reduce the full pack of hounds to just two dogs. The Bill also includes proposals which would ensure trail hunting cannot be introduced as a sport in Scotland.
The League's Director in Scotland, Robbie Marsland said: "This verdict completely vindicates the Scottish Government's plans to ensure trail hunting cannot be introduced into Scotland. It also reveals the scale of dishonesty hunters will descend to in order to continue to be able to encourage packs of hounds to chase and kill foxes.
"It also seriously compromises anything the hunters will say in response to the forthcoming consultation on the Government Bill to strengthen the current legislation. It's time for the smokescreens to be blown away and for fox hunting to be really banned in Scotland - for good".
The Scottish Government is due to publish a public consultation on its Fox Control Bill before the end of the year.
Ends
Notes to editor
The League Against Cruel Sports is Britain's leading charity that works to stop animals being persecuted, abused and killed for sport. The League was instrumental in helping bring about the landmark Hunting Act. We carry out investigations to expose law-breaking and cruelty to animals and campaign for stronger animal protection laws and penalties. We work to change attitudes and behaviour through education and manage sanctuaries to protect wildlife. Find out more about our work at www.league.org.uk. Registered charity in England and Wales (no.1095234) and Scotland (no.SC045533).
Media enquiries to Louise Robertson on 07930 539832 / louise@messagematters.co.uk
Scotland's foxes need your signature
Your help is vital in ensuring that Governmental promises of strengthening the law are upheld and that the new legislation meets the desires of the Scottish people who wish to see an end to fox hunting.
SIGN THE PETITION