Northern Ireland - Ban Hunting
The League has a strong presence in Northern Ireland, the one place in the UK where hunting with dogs is still legal. We work closely with Members of the Northern Ireland Assembly (MLAs) from all parties to highlight animal welfare abuses in Northern Ireland, and were delighted when in 2015 the maximum sentence for animal cruelty was increased to five years imprisonment.
Northern Ireland is now leading the way in the UK when it comes to punishing those guilty of animal cruelty – but there is still a lot more to be done.
An eight-week public consultation seeking voters' views on hunting in NI was reported as having the largest response to a consultation in Stormont's history. Of the 18,425 people who responded, more than 78 per cent said all hunting, searching, coursing, capturing or killing wild mammals with dogs should be banned in Northern Ireland.
Now this consultation has shown the overwhelming support for a hunting ban in Northern Ireland, there is a strong foundation for a Private Members' Bill to be introduced to see a ban on hunting with dogs once and for all.
Hunting in Northern Ireland
Sadly, Northern Ireland is the only part of the United Kingdom without a ban on hunting with dogs, which includes fox hunting, deer hunting and hare hunting, and it's high time these were banned.
Hunting with dogs is cruel and unnecessary. The hunted animal suffers immeasurably before it is finally killed. The dogs involved can also sustain horrific injuries, especially during terrier work.
There are three main types of hunting with dogs in Northern Ireland:
commonly referred to as fox hunting, hare hunting or stag hunting, hunts ride out on horseback or follow on foot with a pack of hounds to track, chase, attack and kill the hunted animal
terrier work, which involves individuals putting terriers into a hole in the ground to 'flush out' or force a wild animal to flee and then kill it
individuals using dogs such as lurchers to chase and kill hares.
Hunting live mammals with dogs is as cruel as animal fighting, which has a maximum prison sentence of five years, and yet is still legal. It is not necessary for population management - a well-used excuse for continuing the practice - and is both inefficient and ineffective.
Hunting with dogs has been illegal in England, Scotland, and Wales for more than 15 years.
It is vital that Northern Ireland leads the way with a full and comprehensive ban on hunting with dogs, and does not duplicate the exemptions and loopholes which have allowed animals to continue to be chased and killed in the rest of the UK.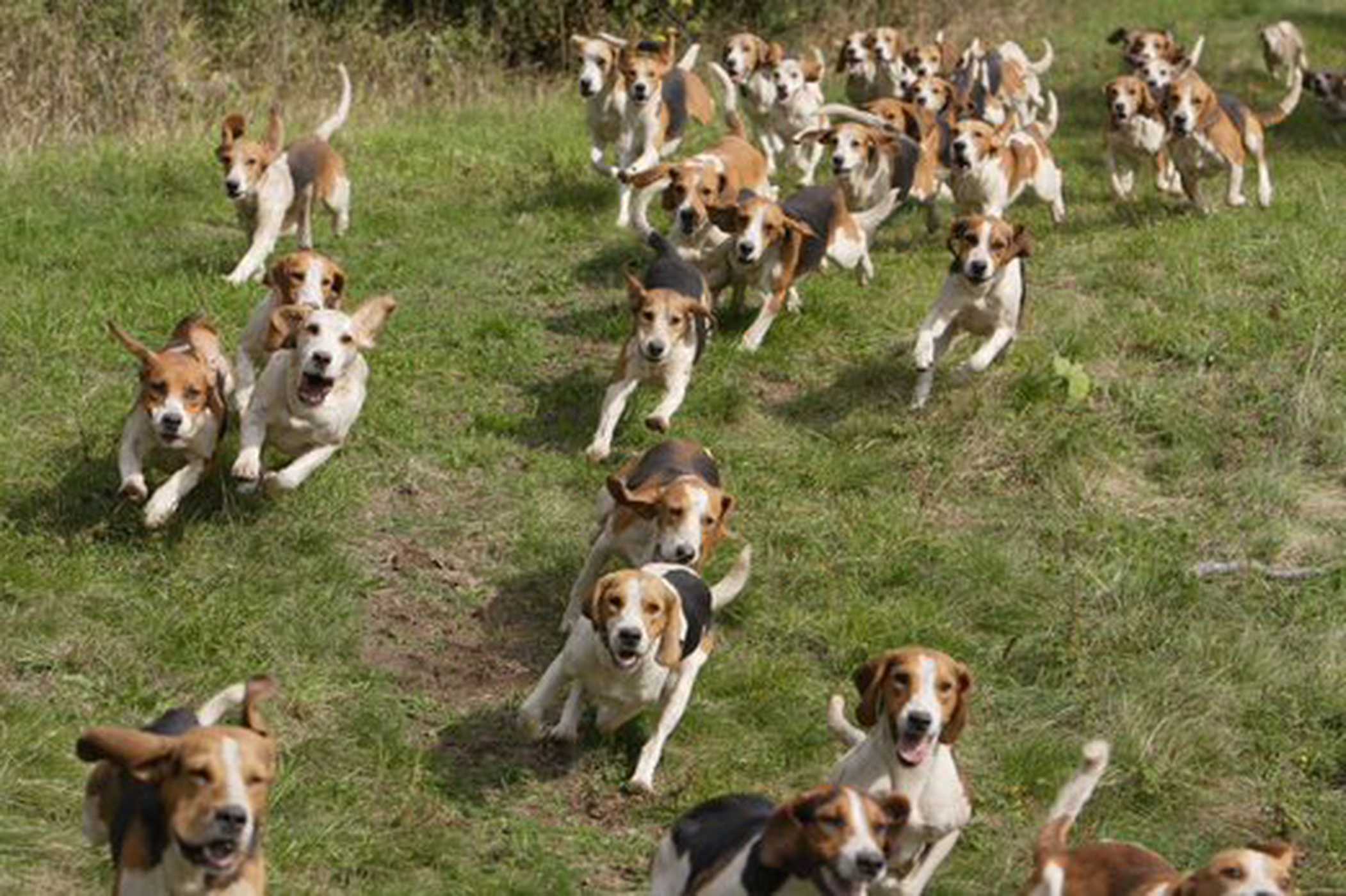 A hunting ban in Northern Ireland must prevent 'trail' hunting from being used as a cover for illegal hunting. 'Trail' hunting was invented by hunts after hunting was banned in England and Wales and purports to mimic traditional hunting by following an animal-based scent trail laid in areas where foxes or hares are likely to be. When an animal is killed by the hounds it is common for hunts to claim it was an 'accident', preventing prosecution.
Exemptions in the legislation in England, Wales and Scotland have enabled hunting to continue under guises including so-called scientific research, flushing to guns and flushing with dogs to be hunted by a bird of prey. Such exemptions are widely abused, making potential prosecution difficult, and cannot be justified.
There is a real opportunity here for Northern Ireland not only to catch up with the rest of the UK, but to lead the way in ensuring full, robust protection for animals persecuted for 'sport'.
Badger Baiting in Northern Ireland
Badgers and their setts are protected by law throughout Ireland and Great Britain. However, despite this, they are often persecuted by cruel individuals intent on killing these beautiful animals for their own pleasure. Badger baiting is a bloodsport in which people set dogs on badgers. A baiting session typically results in the death of the badger, and often serious injuries to the dogs as well.
This horrendous activity is particularly prevalent in Northern Ireland and therefore the League Against Cruel Sports has highlighted it as one of our regional campaigns.