This year the theme for the day focuses on the importance of recovering key species for ecosystem restoration and we thought there would be no better occasion then to talk about a very exciting rewilding project we have been involved in since 2018.
Cove Down Wilding, located in mid-Devon, is a collaborative project which was founded by landowner Yolanda Cruwys, who had the wonderful idea to connect her farmland with the League Against Cruel Sports wildlife reserve Cove Down. The aim of the project is to work with neighbouring landowners to create bigger, better and more joined up landscapes which are managed with a more holistic approach in order to allow for damaged ecosystems to recover and nature to flourish.
Since the project began, Cove Down Wilding now consists of 275 acres of grassland, conifer plantation, deciduous woodland and scrub which already provide ideal habitats for invertebrate and numerous mammal species including the magnificent Red deer, Roe deer, foxes, badgers, otters, polecats and Hazel dormice to name but a few. Monthly surveys by the Devon Bird Group have also revealed that Cove Down provides important feeding and nesting sites to over fifty bird species, several of which are in significant decline due to habitat loss and agricultural intensification.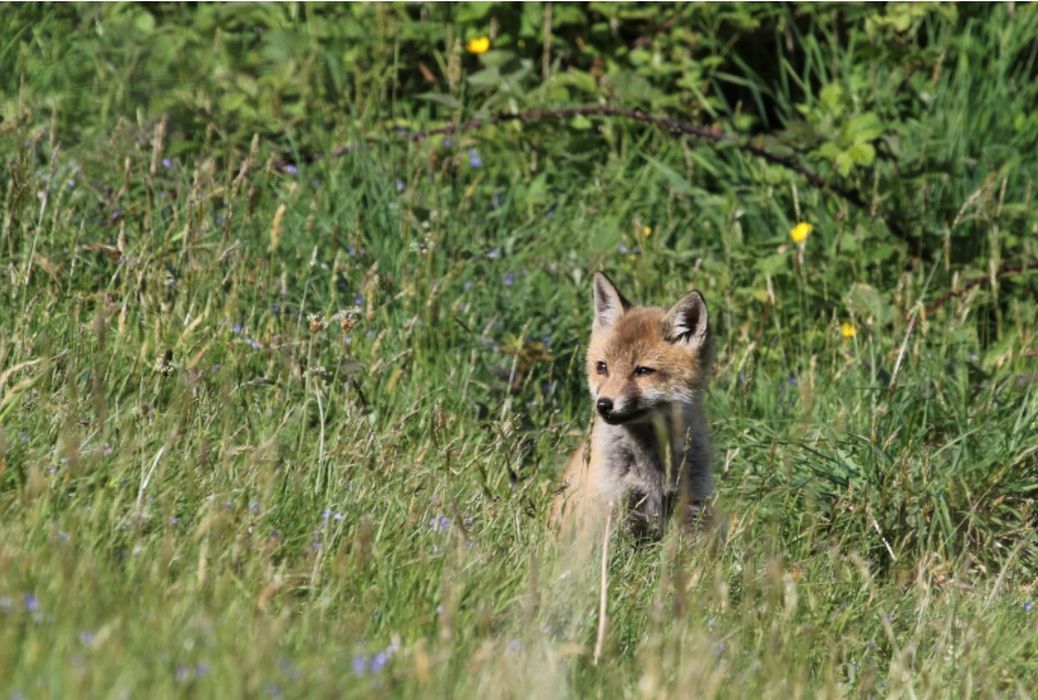 Fox cub soaking up the sunshine at a safe spot within Cove Down wildlife reserve
The League has supported the project by installing a number of nest boxes for birds and Hazel dormice across our woodlands. We are also allowing for natural processes to take control on our land and carry out visual assessments and wildlife surveys to monitor the changes that occur.
Currently Cove Down wildlife reserve is not open to the public, but we look forward to the day where we can welcome supporters and local communities for educational visits as we hope to connect more people to nature.
Until then, Yolanda who co-manages the project has filmed some behind the scenes footage of Cove Down wildlife reserve, to show you some of the different species which can found there and to provide helpful information on what you could do to support nature in your own area.
If you are interested in finding out more information about Cove Down Wilding, follow @wildingcove on Instagram for the latest news and updates.