League Supporters visit Baronsdown
Jenny and I have supported several animal welfare charities working round the world for many years. All do great work and it's impossible to say one is better than another, but the League has some special qualities shared with few other charities.
Sadly, animals suffer at the hands of humans for a number of reasons: poverty, ignorance, greed, stupidity, even misplaced "kindness". But surely the most despicable kind of cruelty is that inflicted for the amusement of the perpetrators, such as with hunting. The League is one of a small number of charities fighting this cruelty.
The good work done by animal rescue charities is uncontroversial, but actively investigating and opposing hunting, as the League does, is a different matter. Some hunt supporters have a track record of intimidation and violence. Others are powerful people with allies in the media, ready to cast the charity in as poor a light as possible.
So, the League focuses on arguably the worst kind of animal cruelty, in arguably the most difficult of circumstances (in this country, at least). It wields great influence for a charity its size, and it deserves all the support it can get, whether from volunteers or donors/fundraisers.
All these strands were brought together when Jenny and I were lucky enough to visit the League's sanctuary at Baronsdown on Exmoor. We were shown around by Paul, the League's Head of Conservation & Education. There are other smaller sanctuaries too, and all are looked after by just Paul and one part-time staff member. As we toured the sanctuary with Paul, he explained about it and his work.
Principally, of course, the sanctuary is what it says: a place where deer, and other animals, can come and go, to escape hunts and have a peaceful place to raise their young. Naturally, hunts don't like this, and Paul pointed out obstacles that had been erected just outside the sanctuary to try to prevent deer getting onto the sanctuary when being chased.
He also told us of the damage caused to League property, and the intimidation and abuse he suffers personally. This is not just when hunting is going on. Although the sanctuary has existed since the 1950's, it seems some people still think it somehow wrong and "unnatural" that it should be there.
The animals, of course, think differently. We saw a herd of 70 or 80 red deer hinds and calves, with a couple of young stags, peacefully gathered in one field. Paul's practised eye also spotted a calf, alone in the long grass. He explained it was only a few days old and might be left for hours at a time, just keeping still and hidden. This does raise the question of how the calf knows when it should stay and when it should follow its mother – but I don't think any of us knew the answer to that!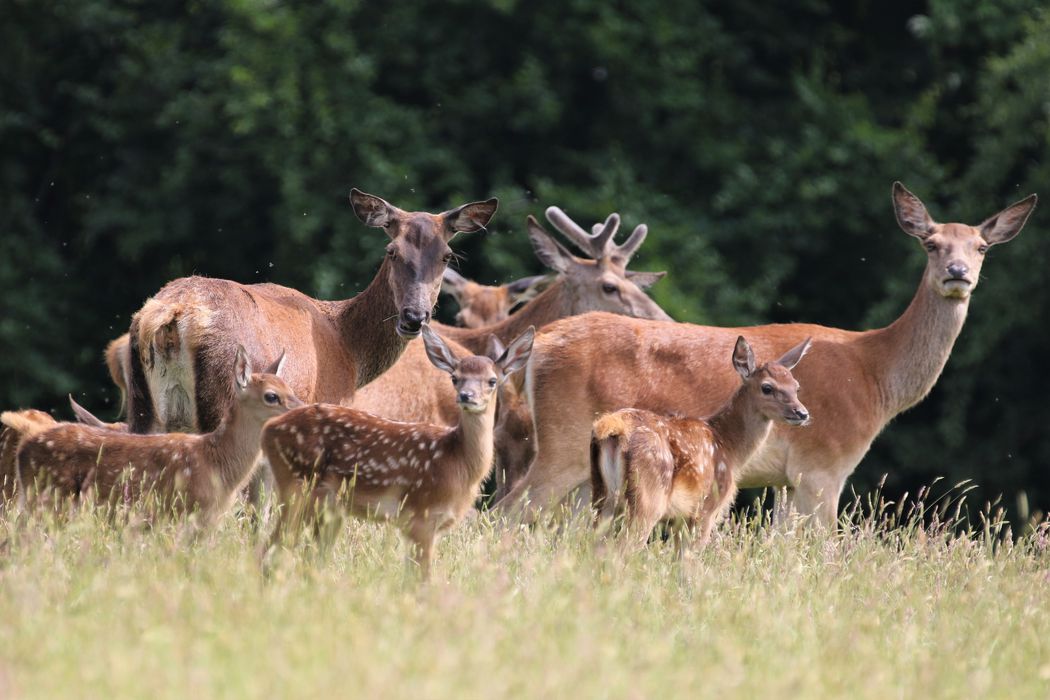 Red deer with calves at Baronsdown
The sanctuary is a haven for other wildlife too. In particular, there is a good population of dormice, although they are not quite as visible as the deer! The sanctuary is run in an ecologically sound way to encourage and help all wildlife.
Baronsdown is the League in microcosm. It protects wild animals from the needless cruelty of hunting, carried out for perverted pleasure. At the same time, it provides a peaceful environment for other animals. Its success depends not just on Paul and other League staff, but on supporters who provide funds for equipment. Further, it symbolises the League's determination to help animals in the face of threats and vandalism. It was great to visit it.
Despite all the positives, the sanctuary still faces opposition and allegedly "legal" hunting still continues. Clearly, civilization has yet to reach everybody! However, I am old enough to think back 50 years to when, despite the work of the League and others, hunting was seen as a normal part of life with no chance of it stopping. The same applies to many other animal welfare issues. Now real progress has been made, albeit that the fight is not over and change should be faster. But with help from the League, all animals will eventually gain the peace and respect they deserve, and already receive at Baronsdown.
Very young calf