Scottish Parliament Play Your Cards Right Game and Discussions.
As the Scottish Government considers a grouse moor licencing scheme, the League Against Cruel Sports, as part of the REVIVE Coalition, set up an exhibition at the Scottish Parliament between the 28th and 30thof June. This was an opportunity to interact and inform MSP's and their staff about the 'circle of destruction' which currently surrounds the grouse shooting industry.
The way we presented the information was inspired by the Play Your Cards Right game from the 90's. There were 2 rows of cards, revealing facts and figures about the impact grouse moor management has on Scotland's wildlife, environment and economy. The MSP's got the option to guess if the figure on each card was higher or lower than the previous card. Starting from the top row, the figures representing the circle of destruction got progressively higher, while the figures on the bottom row got progressively lower as the game went on. At the end, the MSP's were left with a juxtaposition of facts -the large number of animals killed on grouse moors next to the paltry economic contribution of this destructive industry.
Our exhibition stand was situated at the entrance to the debating chamber which gave us excellent access to MPS's coming and going as they carried out business in the chamber.
League Against Cruel Sports Scotland campaigner Eliza Chiswell at the REVIVE stand in Parliament
Our exhibition stand tv was set up to play video clips and images exhibiting the destruction on grouse moors. A separate stand was set up to display reports commissioned and published by The League Against Cruels Sports Scotland and the wider coalition. The video clips and the display of reports were a great way to direct attention to our stand.
We wanted to make it a fun and interactive experience for our target audience. According to MSP's, the exhibition was a fresh and exciting approach to presenting information.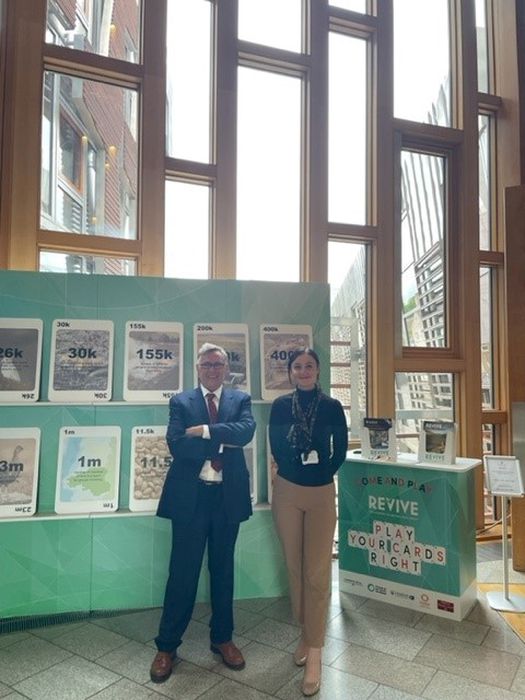 Robbie Marsland, Director of League Against Cruel Sports Scotland with Minister for Environment and Land Reform, Màiri McAllan
We had a series of successful engagements over the 3 days, one of our first being the Minister for Environment and Land Reform, Màiri McAllan MSP. We explained to the Minister our purpose in setting up the exhibition, then she played the game. We spoke about the impacts of current grouse moor management on Scotland's wildlife and environment and we discussed the possibilities of alternative uses of land. We are absolutely delighted that we got the chance to have a conversation with the Minister and it is very encouraging to hear her support of grouse moor reform. In addition, we discussed briefly the upcoming Hunting with Dogs (Scotland) Bill, currently in stage 1, which gave us an opportunity to convey our views.
Foysol Choudury MSP (Scottish Labour) was particularly impressed by our tv video display, and took part in the game as well. Afterwards he showed his support on twitter by posting a photo and encouraging people to sign the REVIVE pledge.
Another successful discussion was held with Elena Whitham MSP (Scottish National Party) who showed great enthusiasm for our game and wanted to learn more about the REVIVE coalition. We discussed how grouse moor reform offers a better future for Scotland's wildlife, environment and communities. Ms Whitham also showed her support by taking the REVIVE pledge.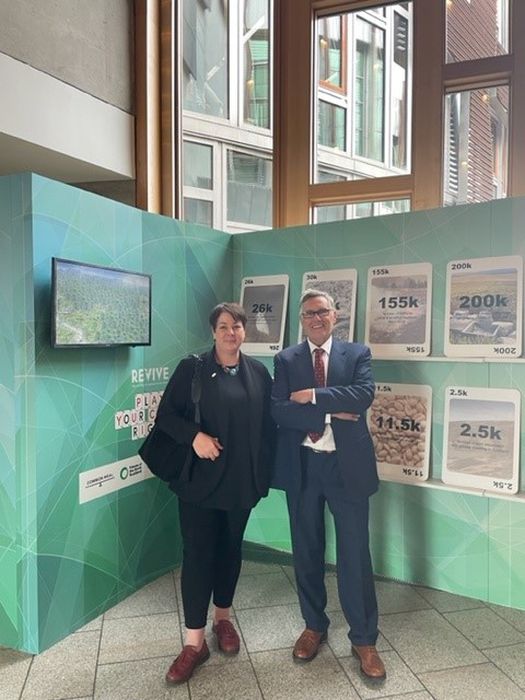 Elena Whitham MSP with Robbie Marsland
Our exhibition sponsor and Mark Ruskell MSP (Scottish Greens) also found the game interesting and informative. Mr Ruskell also showed his support by backing the REVIVE pledge.
Colin Smyth MSP and Mercedes Villalba MSP (Scottish Labour) showed their support by playing the game, getting photos with our pledge board and posing like game show host Bruce Forsyth!. Both were intrigued to learn more about the harmful impact driven grouse shooting has on Scotland's wildlife and environment and discussed how we could use this evidence to push for grouse moor licencing.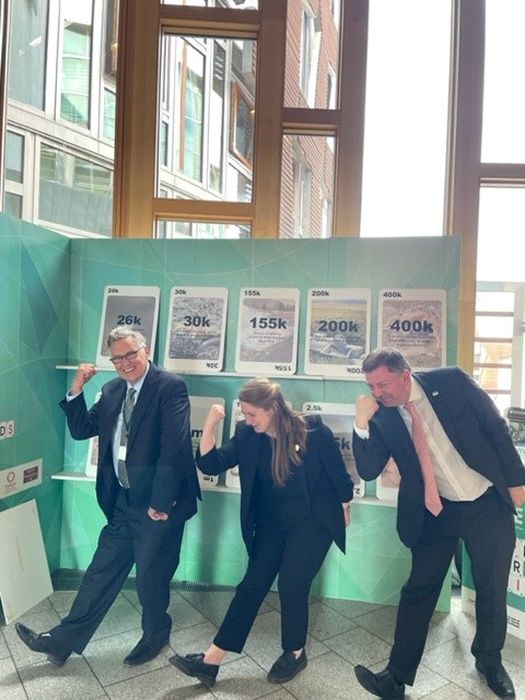 Robbie Marsland posing with Mercedes Villalba MSP and Colin Smyth MSP
Overall, this experience was very successful in terms of lobbying, gaining support through positive discussions, far beyond just MSPs we've mentioned, and widening our audience on social media. Adding an element of fun and entertainment to presenting our information proved to be a success. We are thoroughly looking forward to our next trip to the Parliament.