Oxford City Council deny responsibility for the return of greyhound racing to Oxford
Monday, March 21, 2022
Animal Welfare campaigners are once again frustrated at Oxford City Council's refusal to publicly oppose the return of greyhound racing to the Blackbird Leys stadium.
On March 21, Oxford Vegan Action presented a petition to Oxford City Council's full meeting, asking for a stop to greyhound racing returning to the city.
Despite the petition receiving over 3000 signatures, the council denied their responsibility and instead explained there is no decision within the remit of Oxford City Council as to whether or not greyhound racing returns to the stadium.
Emily Lawrence, regional campaigns manager at the League Against Cruel Sports said: "It is disappointing to see that yet again, Oxford City Council do not want to take a proactive stance on stopping the return of greyhound racing to the stadium and instead choose to shirk responsibility.
"Thousands of dogs now face a life of misery when there are alternative, cruelty-free options available for the stadium. Over 3000 people have expressed their concerns and it's time the council acknowledge this and speak out."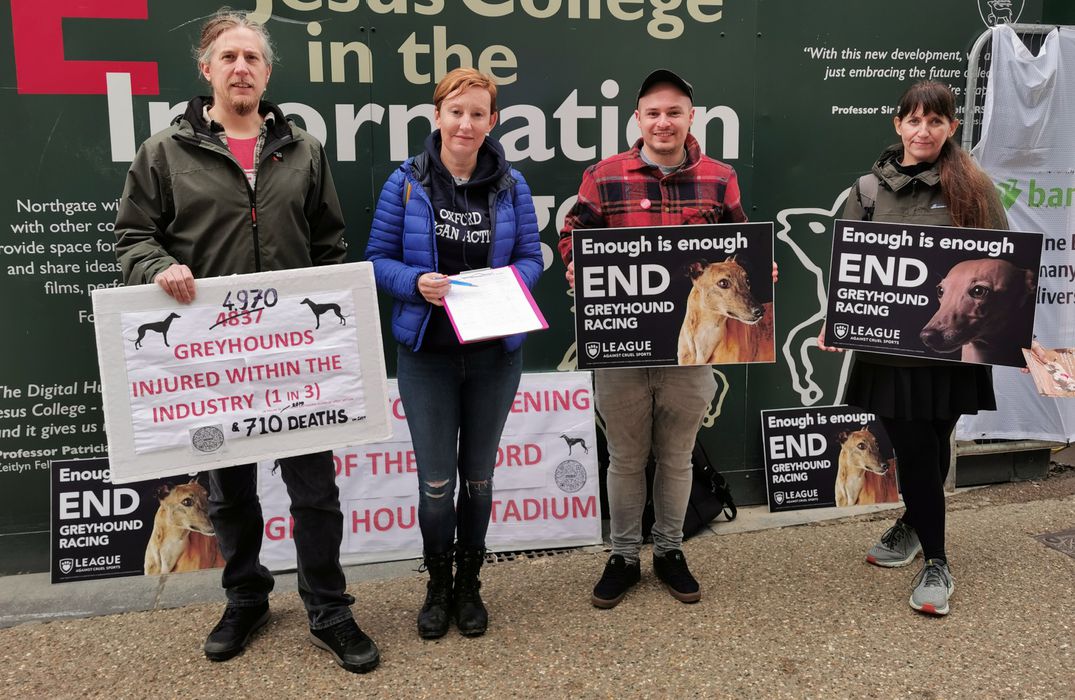 In 2020 alone, 200 greyhounds died at greyhound tracks across Britain, with 3,375 listed as injured.
Nigel Gibson from Oxford Vegan Action said: "Greyhound racing failed in Oxford over ten years ago and there is no widespread support for this activity either resuming in our city, as shown by our petition, or across the UK.
"The cruelty involved in breeding and racing greyhounds is well documented and should no longer have a part to play in a city with Oxford's reputation."
Despite the track being closed in 2012 due to the declining popularity of the 'sport', Galliard Homes, which owns the stadium, signed a 10-year lease with greyhound racing promoter Kevin Boothby, managing director of Henlow Racing earlier this year. Racing is expected to start in April this year.
A petition to ban greyhound racing in the UK is being debated in parliament on Monday 28 March and you can have your say by contacting your MP encouraging them to support the ban and to attend the debate.
Ends
Notes to editors
Enclosed is a link to the petition hosted on Oxford City Council's website which is now closed.
For more information or interview requests please contact the League Against Cruel Sports Press Office on 01483 524250 (24hrs) or email pressoffice@league.org.uk
The League Against Cruel Sports is Britain's leading charity that works to stop animals being persecuted, abused and killed for sport. The League was instrumental in helping bring about the landmark Hunting Act 2004 and the Animal Welfare (Sentencing) Act 2021. We carry out investigations to expose law-breaking and cruelty to animals and campaign for stronger animal protection laws and penalties. We work to change attitudes and behaviour through education and manage sanctuaries to protect wildlife. Find out more about our work at www.league.org.uk. Registered charity in England and Wales (no.1095234) and Scotland (no.SC045533).