New Bill published 20 years after failed attempt to ban fox hunting
Charity welcomes moves to "really ban hunting in Scotland"
The Scottish Government has published its Hunting with Dogs Bill (Scotland) today (Friday) which is intended to strengthen existing legislation on hunting wild mammals with dogs.
The long-awaited Bill comes twenty years after the flawed Protection of Wild Mammals (Scotland) Act was passed in February 2002. Two decades ago, Scotland led the way in passing a law which was supposed to end the cruelty of hunting with dogs.
Instead of being a progressive, forward thinking piece of animal welfare legislation, the controversial Act instead created a series of loopholes which allowed hunters to continue hunting almost as if the law didn't exist.
Director of the League Against Cruel Sports Scotland, Robbie Marsland, said: "Twenty years ago, almost to the day, Parliament tried to introduce a law which would prevent registered mounted fox hunts using packs of hounds to chase and kill foxes in the Scottish countryside.
"Sadly this legislation hasn't been worth the paper it's written on and with just one successful prosecution in two decades, it has done nothing to stop the cruelty of hunting, instead creating a series of loopholes which allowed hunters to ride roughshod over the law.
"Evidence filmed by the League Against Cruel Sports over many years finally convinced the Scottish Government that something had to change and today we wholeheartedly welcome a significant step towards that change."
The draft Bill includes measures to reduce the pack of hounds to just two dogs and includes pre-emptive measures to address the likelihood of trail-hunting becoming established in Scotland. It will also consider a licensing system which could allow hunts to take out a full pack of hounds in certain circumstances.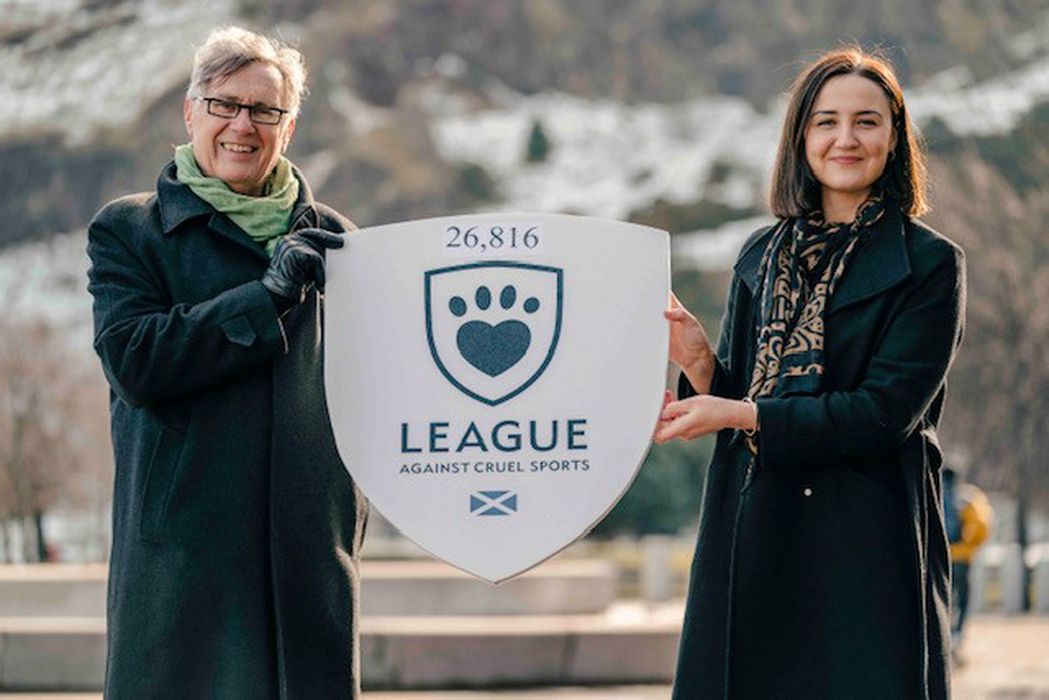 Robbie Marsland, League Against Cruel Sports Scotland director, hands Minister for Environment, Biodiversity and Land Reform, Màiri McAllan MSP, 28,816 signatures calling for a real ban on fox hunting in Scotland prior to the Bill's publication
Robbie added: "The League fully supports the intention behind the new Bill and we look forward to it progressing through parliament with detailed scrutiny. After twenty years of flawed legislation it is critical this Bill is not simply a way of creating new loopholes for hunters to exploit.
"The desire of a tiny minority to continue this abhorrent and repugnant so called "sport" should not be underestimated and we need to remain vigilant as the Bill moves forward to ensure that this time round, it really bans fox hunting - for good."
Ends
Notes to editor
The League Against Cruel Sports is Britain's leading charity that works to stop animals being persecuted, abused and killed for sport. The League was instrumental in helping bring about the landmark Hunting Act. We carry out investigations to expose law-breaking and cruelty to animals and campaign for stronger animal protection laws and penalties. We work to change attitudes and behaviour through education and manage sanctuaries to protect wildlife. Find out more about our work at www.league.org.uk. Registered charity in England and Wales (no.1095234) and Scotland (no.SC045533).
Media enquiries to Andy Maciver on 07855 261244 / andy@messagematters.co.uk or Louise Robertson on 07930 539832 / louise@messagematters.co.uk