Huntsman's sentence for "shocking and appalling" animal welfare crimes is not good enough, says charity
However the national animal welfare charity that discovered the abuse says the punishment does not go far enough.
Hunt master David William Lloyd Thomas, 56, and his son Carwyn Lloyd Fazakerley, 18, both of Cwm Bowydd Farm, Blaenau Ffestiniog, were charged following a covert investigation by the League Against Cruel Sports.
Both men pleaded guilty at a previous hearing on October 10 to an offence under the Animal Welfare Act in relation to the dogs. They were sentenced today at Llandudno Magistrates Court.
Thomas, master of the Dwyryd Foxhounds, was sentenced to 24 weeks in prison, just two weeks more than when he was convicted in 2018 of dog fighting and badger baiting, despite new sentencing laws meaning he could have jailed for up to five years. He has also been banned from owning dogs for 10 years.
Fazakerley was sentenced to 160 hours community service, to be served over 12 months. He also received a 10 year disqualification order from owning dogs.
The League's footage shows a foxhound being kicked into a trailer by Thomas, and on another occasion him dragging a hound out of its run and chaining it by the neck in the yard. The terrified animal then fights to try and free itself.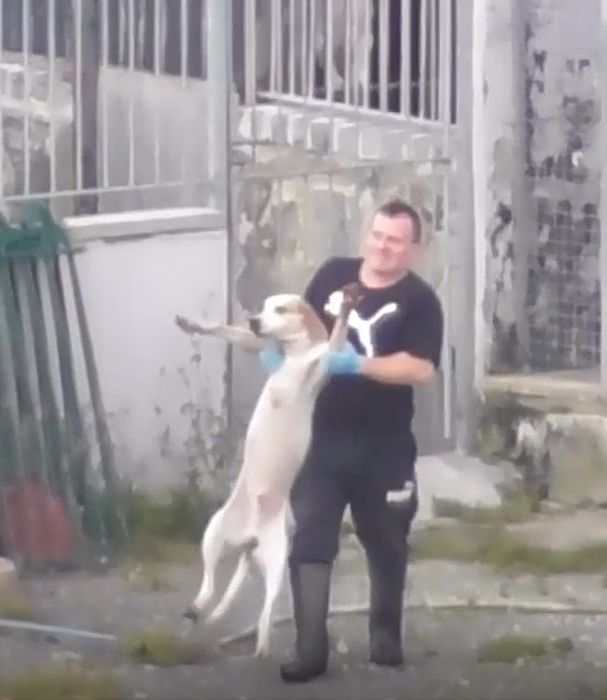 In one of the most distressing of the films, a small Patterdale terrier is seen chained up by itself in an outbuilding, totally in the dark, covered in faeces.
Footage also shows dead hounds being taken to an incinerator and cremated on site.
Thomas also admitted to breaching a disqualification order on three occasions, relating to his previous conviction for badger baiting.
He also pleaded guilty to kicking the foxhound into a trailer and to animal welfare issues in relation to two ferrets.
Following the League's investigation a warrant was executed By North Wales Police and the RSPCA on November 17, 2021.
The animals were checked by a vet and seized and removed from the site.
Chris Luffingham, director of external affairs at the League Against Cruel Sports, said: "These animals were kept in filthy, disgusting conditions and treated appallingly by Thomas and Fazakerley.
"When we reviewed our investigators' footage we were shocked and appalled by what we saw – and incredibly concerned for the welfare of other animals we suspected were on the property.
"Unfortunately our fears were realised when the warrant was executed, and we are grateful to North Wales Police and the RSPCA for their work to safeguard these animals.
"We welcome today's custodial sentence but are incredibly disappointed that as someone who has previously been jailed for animal cruelty that today's sentence wasn't far stronger, especially given the new sentencing powers available to the courts."
The League was instrumental in lobbying the government to introduce harsher sentences for the worst animal abuses, successfully campaigning for maximum custodial sentences to be increased from six months to five years.
Following the conclusion of the case the RSPCA will attempt to try and find new homes for the dogs and other animals seized from the property.