Hunts feeling the heat in the South West
Pressure has been building on hunts in the South West with more and more landowners turning their back on 'trail' hunting in the region. Just this week, two high profile hunt meets have come under scrutiny with the Jamaica Inn in Cornwall refusing a local hunt permission to meet and just two days later, Castle Cary town council withdrawing their support for the annual Boxing Day meet in the town.
Larger Hunt meets are often displays of pomp and pageantry that deflect attention from the cruelty trail hunting inflicts on wildlife. Since the exposure of trail hunting as a smokescreen for illegal hunting, we're seeing more and more organisations and businesses saying enough is enough and taking action to prevent the abuse of their land by hunts. By withdrawing permission for hunts to meet on their land, landowners are recognising both the deception of trail hunting and the negative impact being tied to hunting has on their own reputation.
On Monday (March 14), the historic Jamaica Inn announced they would no longer permit the East Cornwall Foxhounds to meet at the pub, ending an association going back over 100 years. The pub's owner, speaking to the BBC described the impact of hosting the hunt at the venue, "We have always lost money because some people won't come here because of the association with hunts. There are no pluses, all we get is minuses." Pubs, hotels and all hospitality venues must surely heed this warning. More must now follow the example of the Jamaica Inn and ban hunts from using their land for organised animal cruelty.
Just two days later, following a long running campaign led by Action Against Fox Hunting, Castle Cary town council in Somerset apologised for allowing the Blackmore and Sparkford Vale hunt to host their annual Boxing Day meet in the town centre. A damning statement on the council's website apologises to residents for a "serious error" in allowing the meet to go ahead and confirms that future meets in the town will not be facilitated by the council.
These are just the latest in a series of bans and barriers raised to hunts in recent months. In December last year, Cheshire West and Chester council announced a ban on trail hunting on public land. This action is a clear, positive example of actions councils and other bodies can take against hunting despite Defra, the MoD and wider government silence over (and implicit support for) the lie of trail hunting.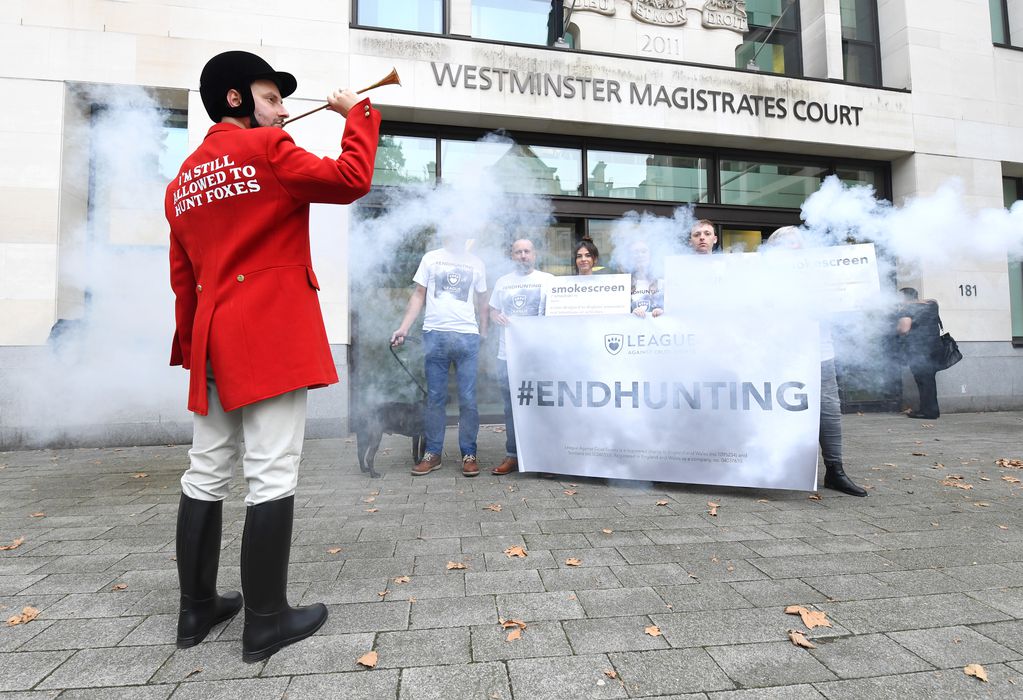 Trail hunting is a smokescreen for illegal hunting, the hunts themselves have admitted this. The Government, however, have buried their heads in the sand, refusing to strengthen the Hunting Act and even allowing trail hunts to access public land still. With the government failing to protect animals from 'trail' hunting it is all too often falling on landowners to say enough is enough and take action themselves.
The vast majority of people in the UK are sick and tired of hunts running amok, unabetted across our countryside ripping our wildlife to shreds. We all must warmly welcome landowners and businesses willing to stand up to the hunting fraternity. All public and private bodies should follow the lead of the growing list of organisations and businesses such as the Jamaica Inn, National Trust, Natural Resources Wales and more who have said enough is enough.
For too long, hunts have been able to pull the wool over people's eyes, lying about what trail hunting is. But now, the hunts have been exposed. They cannot be allowed to carry on as normal.
Landowners must take responsibility for the land they manage, they must recognise that trail hunting is nothing more than a smokescreen for illegal hunting. You can tell major landowners what you think.