Hunting Office Webinars: The Road To Conviction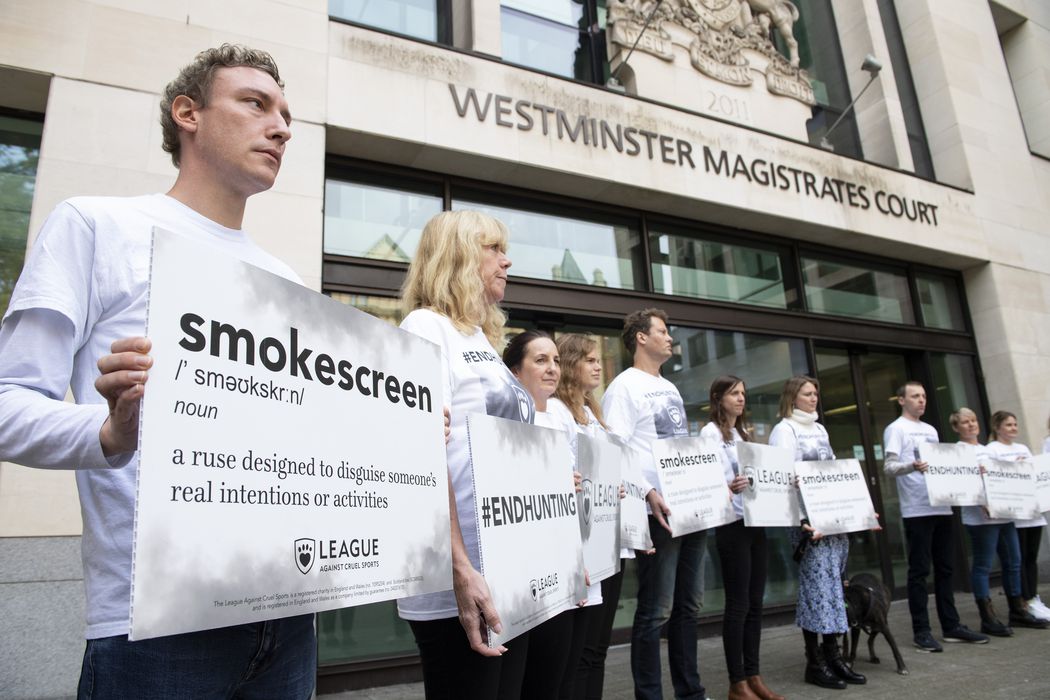 Mark Hankinson, former director of the Masters of Foxhounds Association, has been found guilty of encouraging others to use trail hunting as a cover for illegal foxhunting. This is the story of the part the League played in getting the case to Westminster Magistrates' Court.
It was about this time last year that one or two of us at the League Against Cruel Sports were told about the existence of recordings of three training webinars organised by the Hunting Office.
We were told that two of those webinars, recorded and somehow leaked by an organisation called Stop The Cull, would once and for all blow the lid off the Countryside Alliance's turgid mantra that 'trail' hunting is a legal activity.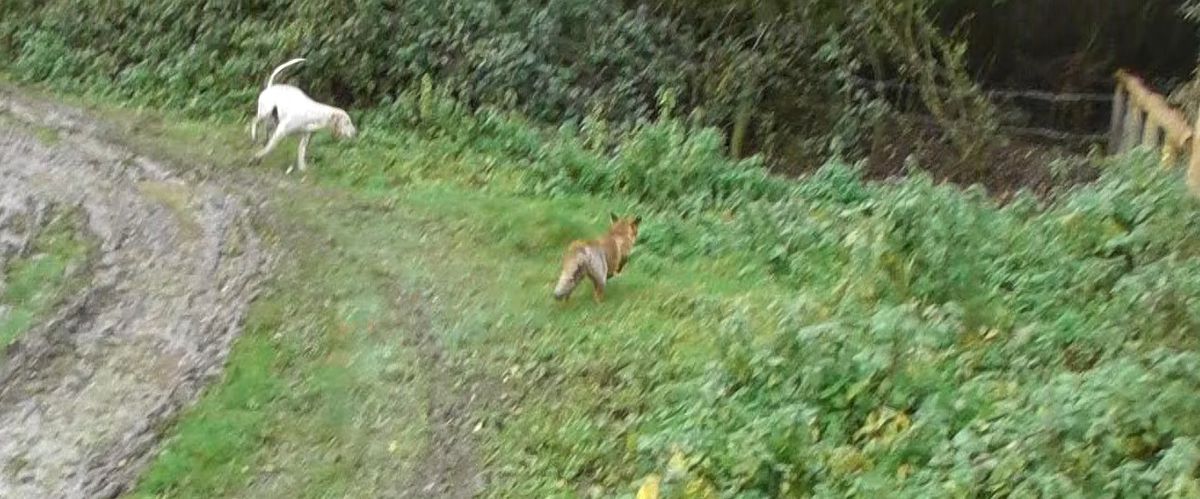 League investigators film a fox fleeing the Duke of Beaufort Hunt's hounds at the same time the webinars were surfacing
The League did not record the webinars, but we were given copies in strict confidence and were unable to tell people about them until certain legal issues had been overcome and then they would be released to select media.
The next week or so felt agonising. There was an issue of defamation and copyright. Frantically, and despite a volley of legal threats, we tried as many ways as possible to get them into the public domain without undermining their credibility, all the way up to Westminster.
And then, late one Friday night, they were released by the Hunt Saboteurs Association (HSA).
But the legal issues hadn't gone away. So, while they were shared on social media, neither we nor the regular media could release them.
Apart from one reporter and his producer.
Rupert Evelyn from ITV News had been in touch with us throughout, as he had been with other organisations that knew of their existence, and with him we hatched a plan to try and get the webinars released nationally. Where one outlet went, the others would follow, surely?
It took the League making an official complaint to police for an investigation to be launched by Devon and Cornwall Police, and then the webinars were finally able to be reported, though with people's voices disguised.
Cue Chris Luffingham, deputy CEO, standing in a water-logged park in the middle of the pandemic, doing a wide-ranging interview about the webinars and how huge the revelations contained within them were.
If hunts can continue to be allowed to use trail hunting as a defence, nothing will change and foxes will continue to be killed by packs of hounds"
Chris Luffingham, Deputy CEO, League Against Cruel Sports
Our lawyers were nervous about defamation and copyright, and so were ITV's. We still weren't sure that interview would air, but together we managed to find a way through and get them broadcast.
And, sure enough, where one man went, other media could only follow.
Once it was released we redoubled our efforts to urge landowners across the country to suspend access to the hunts. We'd spent much of 2020 running a virtual National Trust campaign, before its AGM was cancelled, so this was a natural extension of that.
What we didn't quite expect was how quickly the landowners would act – within a week more than 200,000 emails were sent by our supporters to landowners, and our celebrity friends also took up the campaign. Other anti-hunting organisations were running similar actions on social media. As a result, more than 2.3million acres of previously hunted land in England and Wales was denied to hunts.
Then we waited.
In February this year we finally heard that Mark Hankinson, one of the six people who spoke on the webinars, had been charged with intentionally encouraging or assisting others to commit an offence under the Hunting Act 2004, contrary to Section 44 of the Serious Crimes Act 2007. It was six months to the day since the first webinar had been recorded, and right on the limit of the case running out of time to be investigated.
Hankinson pleaded not guilty at a hearing at Plymouth Magistrates' Court in March, and the case was referred to Westminster Magistrates Court in London in September. It's a court more used to dealing with extradition or terrorism cases – high profile cases that other magistrates' courts in the land wouldn't deal with.
In the intervening six months we went back on the road with our National Trust campaign, welcoming many of our supporter groups and volunteers at our events asking people to urge the National Trust to make its 'pause' of hunt licences into a permanent ban.
We targeted those hunting enablers, like online auction site Jumblebee and a former sponsor of the Festival of Hunting (which was very quick to distance itself from the festival and demand its logo be taken off the site).
We helped councils bring motions to ban access to hunts on their land; many succeeded, some did not.
We also got on with other campaigns in Northern Ireland, Wales and of course Scotland while we waited impatiently for September. We also joined a coalition of 50 charities lobbying the government to properly redefine its stance on animal welfare.
Our work behind the scenes in Westminster saw the webinars brought up in parliament and taken to the highest levels of government – and we wrote about it in parliament's official publication.
Our planning for the court case began weeks ahead of time. We did pre-recorded interviews, we crafted our branding, we planned our 'smoke screen' stunt for outside the court on the first day, and we took the message to the heart of hunting: to addresses relating to the three key people on the webinars: Mark Hankinson, retired chief inspector Phil Davies, and of course House of Lords incumbent Lord Benjamin Mancroft.
We made as much noise as possible with our friends in the media, both national and those local to our three main protagonists, and we made sure our partners and other stakeholders knew how seriously we were taking this case.
It is hard to describe in words the magnitude of what would happen if the verdict was guilty. Most of us dared not dream: we hoped for the best, but we very much planned for the worst.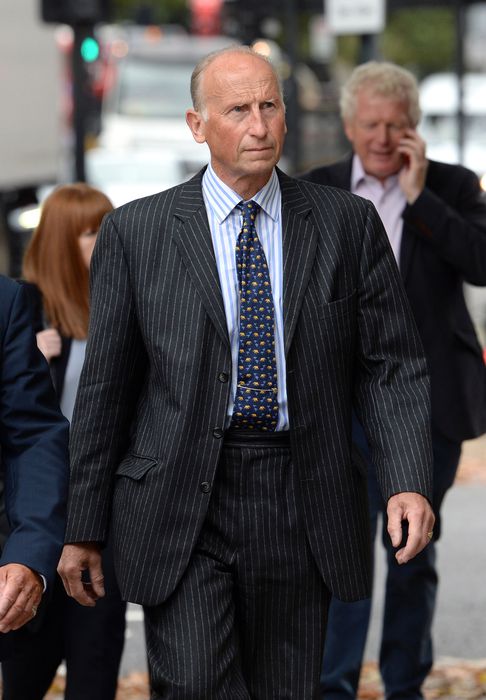 Mark Hankinson arrives at Westminster Magistrates' Court
Those few of us able to get a seat in the cramped public gallery of court numbers nine, 10 and two listened as a series of huntsmen tried to defend the indefensible.
Hankinson said he talked about using trail hunting as a smokescreen to confuse the sabs, who he said would stoop as low as hurting both horse and hound in their efforts to stop the hunt. His excuses were, rightly, thrown out by the judge.
Other huntsmen were called to give evidence. One was found to have been joint master of a hunt at a time when his terrier man was convicted of badger sett interference. Another, who bizarrely hadn't even seen the webinars, was a retired major who in 2004 chaired a meeting of huntsmen who vowed to ignore the new law coming into force. A third was so nervous he struggled to tell the court his age.
None helped the defendant.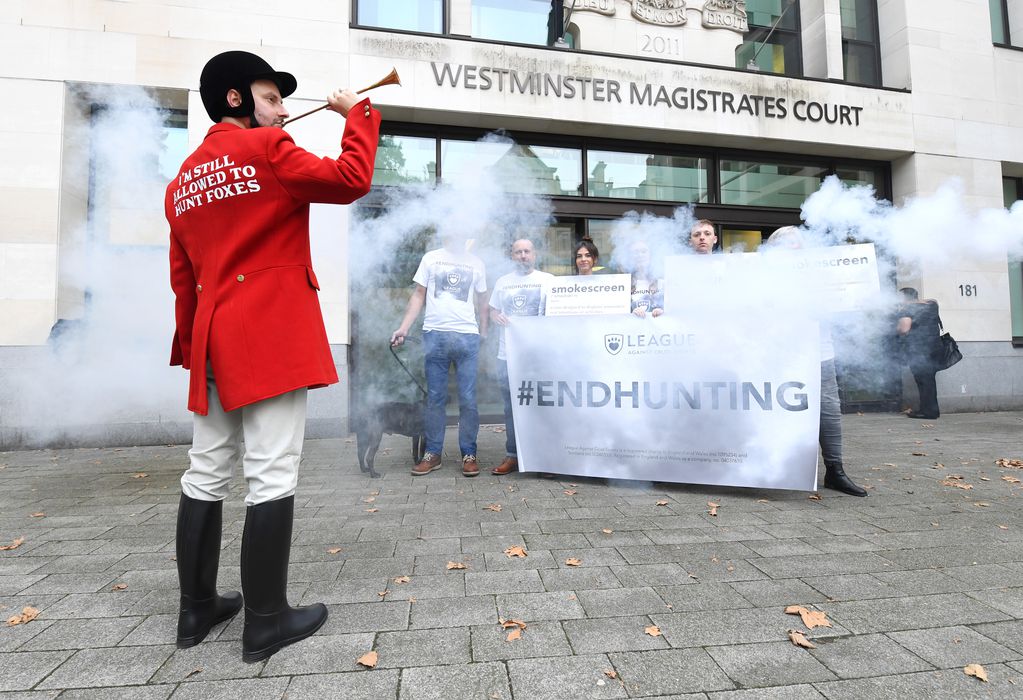 League staff, campaigners and supporters creating a smokescreen in court
And as the defence's QC tried and failed to score points over the excellent prosecution barrister, Gregory Gordon, our hopes were raised slightly.
But we couldn't get carried away. The meaning behind words is subjective, and the threshold the evidence must reach in order for a conviction to be made is extraordinarily high. Nothing was certain.
It became evident on the first day that the trial, initially scheduled for two days, would last into a third, and then the judge would likely retire to consider his verdict.
No-one could do anything more. It was in the hands of Judge Tan Ikram, deputy chief magistrate of England and Wales, to decide whether that threshold had been met. We returned to 181 Marylebone Road on 15 October, ready for whatever the judge might say.
Back were the banners, the T-shirts, placards, supporters and volunteers. Back too was our 'huntsman', ready to turn up in shackles should the verdict go our way.
And into court we went. Or at least, those who could find a seat.
As the judge began reading, those of us watching began to raise our hopes. There was a lot of quoting directly from the webinars.
In my judgment, he was clearly encouraging the mirage of trail laying to act as cover for old fashioned illegal hunting. Whilst he didn't use overt words, he implied it again and again."
Judge Tan Ikram, deputy chief magistrate of England and Wales
And then from the judge came blow after blow after blow to the defendant, to Tim Bonner sitting in the gallery, to his organisation the Countryside Alliance and to the Hunting Office. Until finally…
Let that sink in.
More than 100 people were taught by this man, not forgetting the input from Lord Mancroft et al, on how to carry on killing foxes without being prosecuted or, if a prosecution did happen, how to use trail hunting to create the element of doubt that meant a judge would have no choice but to throw the case out.
GUILTY: Mark Hankinson leaves Westminster Magistrates Court
And we only know about this because the pandemic forced the hunts online: Zoom caught them out. Who knows how explicit they are when they're all in the same room as each other. We can only speculate how often this "advice" is given out to hunts up and down the land.
But enough is enough.
The £1,000 fine, £2,500 contribution to costs and £100 victim surcharge Hankinson had to pay is paltry but beside the point.
The cost to the hunts must be that they can surely never, ever use the defence of trail hunting in court again.
The cost to the hunts must be a new, robust, Hunting Act being passed through parliament.
The cost to the hunts must be that the land they've been able to hunt on belonging to major landowners will be permanently denied to them.
The cost to the hunts must be that those who fundraise for them, who sponsor them and who give them gifts in kind will now have to stop.
The cost to the hunts must be that those who insure them will now never pay out if a hunt uses an excuse of trail hunting when in court. Because all those who have enabled the hunts in the past will now be complicit in criminal activity if they enable trail hunting in the future.
The smoke screen has been lifted.
And, with the continued support and determination of our supporters - not to mention all the anti-hunt organisations involved in obtaining and distributing the webinars - behind it should be a bright future for foxes.