Campaigners say NO to greyhound racing in Oxford
Posted 15th November 2021
Campaigners say NO to greyhound racing in Oxford

Volunteers and staff gathered at Cornmarket Street, Oxford, to urge the public to take action and sign up to the online petition calling on Oxford City Council to stop the return of this cruel 'sport'.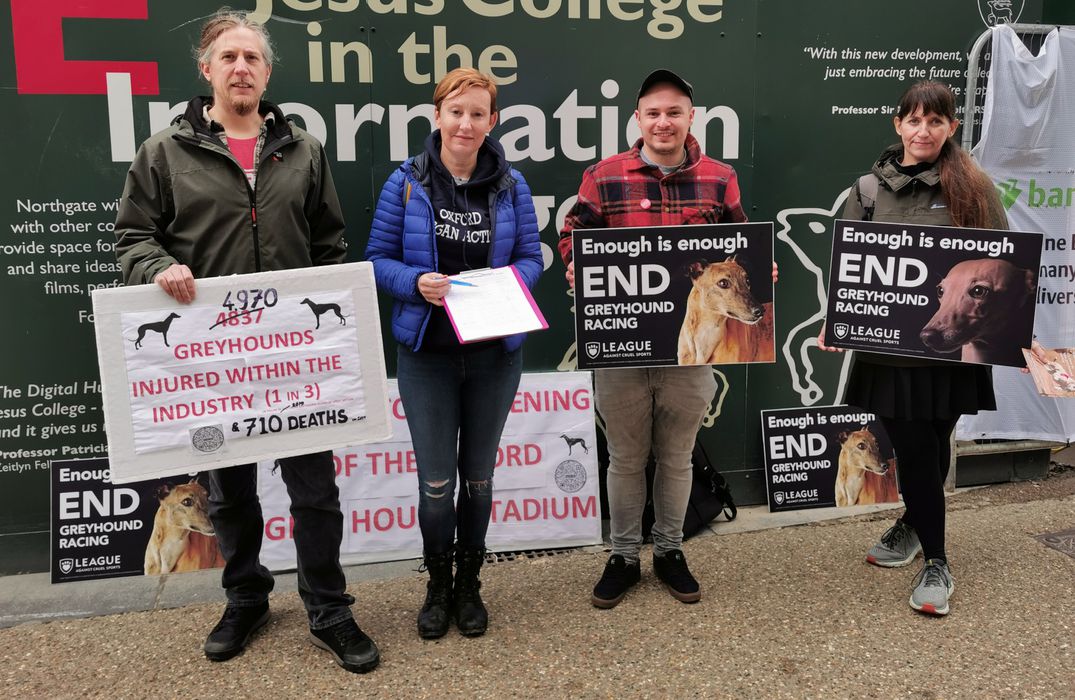 Campaigners from Oxford Vegan Action and League Against Cruel Sports
In 2020 alone, at least 200 greyhounds died trackside at stadiums across Britain, with 3,575 sustaining injuries injured despite a racing schedule reduced by a third due to Covid-19.
Emily Lawrence, regional campaigns manager of the League Against Cruel Sports, said: "Greyhound racing puts the profits of the gambling industry before the welfare of the dogs and it is disappointing to see the 'sport' return to the Blackbird Leys stadium, despite there being alternatives proposed for the venue.
"People we spoke to were shocked at the proposed return and told us they believe greyhound racing is cruel and barbaric and they don't want it back in Oxford."
Despite being closed in 2012 due to the declining popularity of the sport and the area around the stadium becoming very run down, Galliard Homes, which owns the stadium, has made a U-turn and signed a 10-year lease with greyhound racing promoter Kevin Boothby, managing director of Henlow Racing.
The event comes ahead of Oxford City Council's full council meeting on November 29, when a motion brought by Cllr Lucy Pegg to stop the return of the sport to the stadium is due to be debated.
A public petition is also being hosted on the Oxford City Council website, which is due to end on 31 December.