Greyhound racing in Oxford, a cruel sport that belongs in the past
In 2012 the Oxford Stadium at Blackbird Leys was closed and greyhound racing was seemingly banished to the past.
But now a new lease has been signed by greyhound racing promoter Kevin Boothby of Henlow racing, this cruel and barbaric sport looks set to return to Oxford in 2022.
Green councillor Lucy Pegg put forward a motion to the city council asking councillors to oppose the return of racing back to Oxford, but sadly on the evening of 29th November Oxford City Council failed yet again to debate the motion to oppose greyhound racing coming back to the city.
During the day, the League Against Cruel Sports, Peta, and Oxford Vegan Action held a demo outside the town hall to coincide with the council meeting. Members of the public who spoke to us shared their disgust that a lease has been signed and that Greyhound racing will be back in 2022. The issue was covered on television by the Oxford Mail, BBC Oxford TV and radio, Jack FM and Heart FM.
Every time we campaign on this issue on the streets of Oxford we are met with support from visitors and residents. "I can't believe it is coming back to Oxford," is what one person told us. "It is so sad, we don't want greyhound racing back in Oxford," said another. These are just some of the comments we receive. People are horrified, they do not want cruelty happening on their doorstep.
This motion has now missed out on a debate by the council three times. It is possible that it will be heard at the next meeting on31January, but this is not guaranteed.
We will keep campaigning on this issue. The petition started by Oxford Vegan Action has now reached more than 2,400 signatures and this should trigger a council debate over and above the motion due to be debated on 31 January. We will keep you posted on this, and thanks to the great work by Oxford Vegan Action. We will join campaigners again on Cornmarket Street on 16 January between 12pm and 2pm. Please join us if you can, and we will supply placards and leaflets.
If you live in Oxford, please contact your local city councillor and politely ask them to oppose cruel greyhound racing coming back to the city. There are plenty of other potential uses for the stadium that do not include animal cruelty. With Oxford city council promoting healthy lifestyles should they really be allowing this industry back into the city which benefits the gambling industry?
Please keep an eye out on our social media or join our local Oxfordshire group by emailing me. emilylawrence@league.org.uk
The petition closes on the 31 December.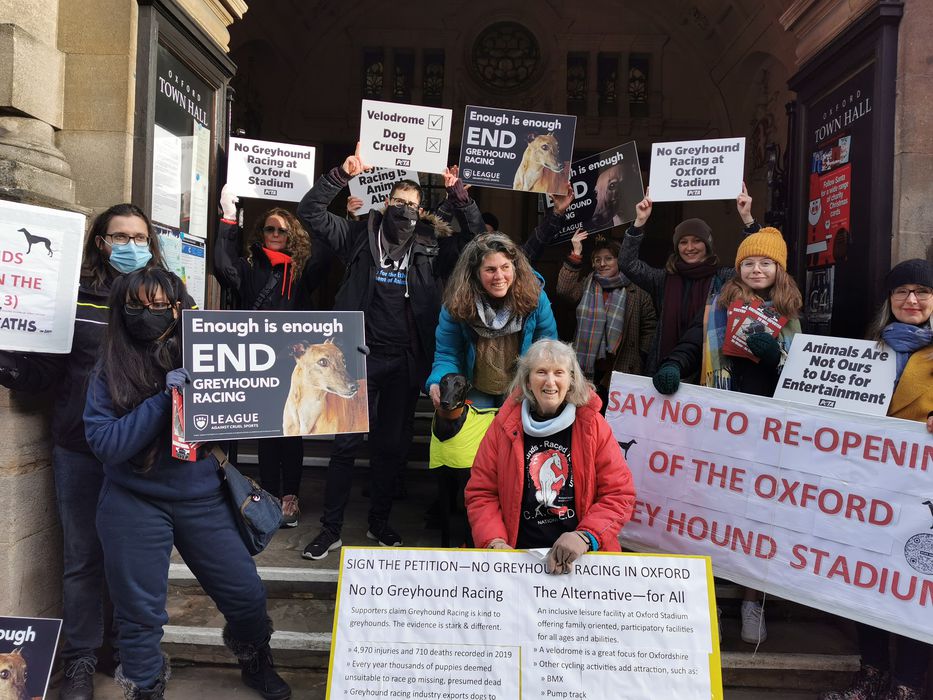 Peaceful demo outside the Town Hall, organised by League Against Cruel Sports, Peta, and Oxford Vegan Action