Charity asks Oxford shoppers to call for an end to fox hunting on National Trust land
Campaigners from the League Against Cruel Sports took to the streets of Oxford today [Saturday] to call on the National Trust to stop licensing 'trail' hunting on its land.
Volunteers and staff from the leading national animal welfare charity, including one in a fox costume, gathered in the city centre to urge the public to take action and sign up to the campaign.
Nick Weston, head of campaigns at the League Against Cruel Sports, said: "The people of Oxford could not have been more welcoming, and were very interested in our campaign to ask the National Trust to ban hunting on its land. The youngsters were also very pleased to meet Vinny, our fox!"
Fox hunts have come under the spotlight recently after senior figures within the hunting lobby were caught seeming to admit that 'trail' hunting, one of the excuses they use, is a 'smokescreen' for the chasing and killing of animals.
The National Trust, to its credit, paused the licensing of trail hunting after this, but it is now time to have the ban made permanent, the League says.
The National Trust is due to hold a debate and vote about the future of so-called 'trail' hunting on its land when it holds its AGM in October.
National Trust members can vote for the ban until October 22, however, by going online. Non-members can still join us with our campaign in emailing the trust and asking that it support a ban.
Nick added: "It is evident that tragically fox hunting is still taking place across England and Wales despite the Hunting Act, and that's why we're calling on the National Trust to stop licensing 'trail' hunts on its land once and for all, and asking its members to help us do that."
Today's campaign event in Oxford is one of a number of events the League has been running this summer in the run-up to the trust's AGM.
A fox hunting ban outlawed fox hunting in England and Wales in 2005 but in the 2019/20 season, the League Against Cruel Sports compiled figures revealing 485 separate eye-witness accounts of suspected illegal hunting.
Through much of 2020, hunting activities were disrupted by Covid-19 lockdown restrictions. However the League still gathered figures showing 300 suspected cases of suspected illegal hunting during the cub hunting season in the autumn, although this is not something that is licensed by the National Trust.
Nick said: "The overwhelming majority of the public oppose fox hunting and it's time to consign this barbaric activity to the history books for good."
Ends
Notes to editors
Please find below a photo of the League Against Cruel Sports 'fox', staff, volunteers and members of the public in Oxford today. Parents of children under 16 signed photo consent forms.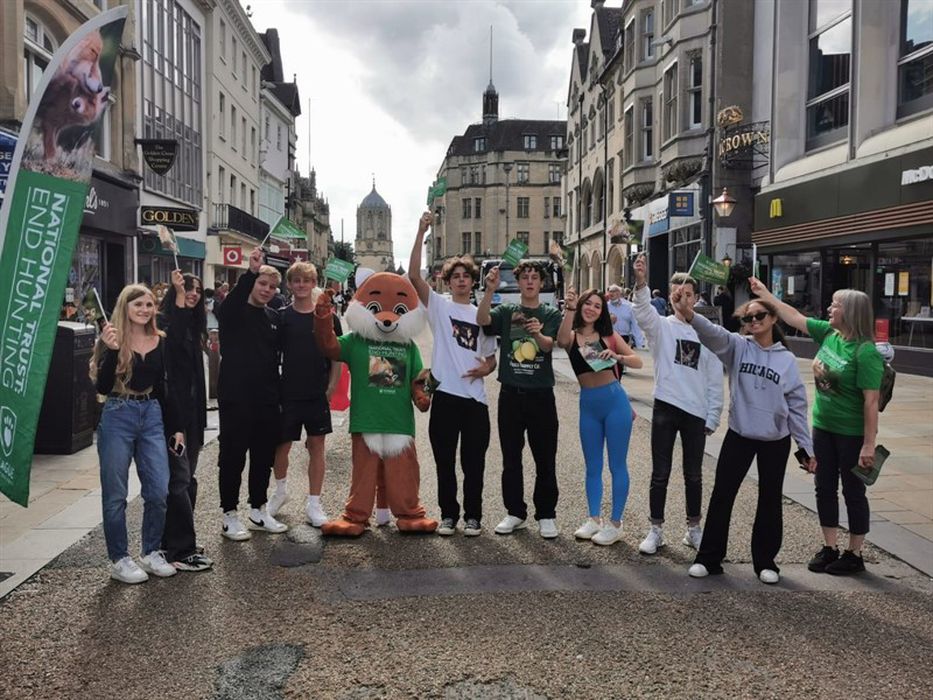 See here to find out more about trail hunting.
For more information or interview requests please contact the League Against Cruel Sports Press Office on 01483 524250 (24hrs) or email pressoffice@league.org.uk
The League Against Cruel Sports is Britain's leading charity that works to stop animals being persecuted, abused and killed for sport. The League was instrumental in helping bring about the landmark Hunting Act. We carry out investigations to expose law-breaking and cruelty to animals and campaign for stronger animal protection laws and penalties. We work to change attitudes and behaviour through education and manage sanctuaries to protect wildlife. Find out more about our work at www.league.org.uk. Registered charity in England and Wales (no.1095234) and Scotland (no.SC045533).