An action packed autumn for Wales
Posted 15th November 2022
Fresh from giving evidence at the Senedd on the use of snares, we take a look back at our recent work in Wales and what we've achieved together so far this autumn.
An action-packed autumn for Wales
This time of year is always particularly busy for us here at the League, with both the shooting and hunting seasons already underway for another season of cruelty.
This autumn has been no exception, especially here in Wales. It's been just over four months since I joined the League and during that time we have been working as hard as ever to help secure a better future for the animals we all care about.
Natural Resources Wales to keep its ban on 'trail' hunting
Our action-packed autumn began with the announcement that Natural Resources Wales (NRW) was to keep its ban on trail hunting in place and also develop a new recreation strategy for the land it manages on behalf of the Welsh Government.
The League lobbied NRW to impose the ban as part of our campaign targeting landowners and were delighted when it announced it would be suspending the so-called sport in 2021.
Then, ahead of the latest announcement that the ban will be kept for the time being, we wrote to the Minister for Climate Change, Julie James MS. She confirmed to us that she'd seen nothing to dissuade her from her original position where she had supported the ban on trail hunting.
We will continue liaising with NRW and the Welsh Government on trail hunting in 2023, in the hope of persuading them to make NRW's current ban a permanent one.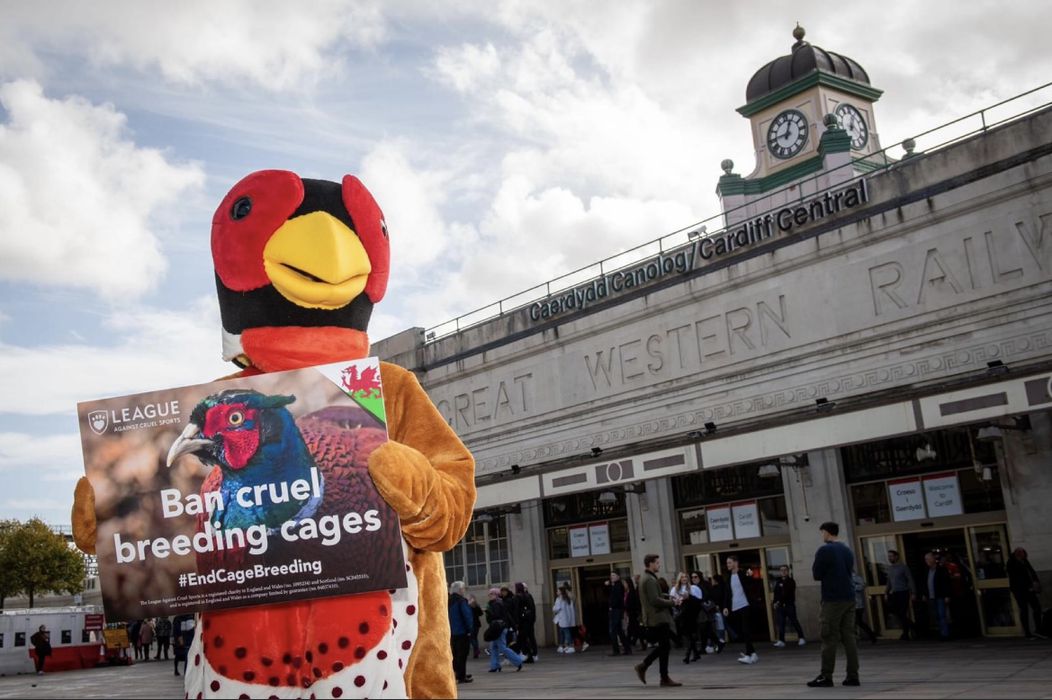 On the road in Wales
In October, we were joined by animal lovers like you from around the country to raise awareness of the cruelty involved in the intensive breeding of game birds. I can still remember how shocked I was when I learned about the horrific conditions these poor birds are kept in at establishments such as Bettws Hall in Powys. This establishment alone produces a staggering 800,000 eggs a week at its peak.
The majority of those we spoke to in Wrexham, Brecon, Cardiff and Swansea were equally horrified. This led to many joining the 7,000+ people who had already contacted their Members of the Senedd via our action to call on them to support the banning of these cruel breeding cages, as well as snares.
Our famous League pheasant joined us at each event, putting a smile on the faces of children and adults alike, which made for some great photos. The pheasant and its new friends also helped us generate some excellent media coverage, which will raise awareness of the plight of breeding game birds further afield.
Our work to secure a ban on the use of cages for breeding game birds in Wales will continue next year, where we hope to build on the success of our other Wales-based campaign…
Celebrations as snaring ban published
In September, the long-awaited Agriculture (Wales) Bill was published, featuring a welcome ban on the use of snares. This important step forward makes Wales the first UK nation to take such decisive action. We have long campaigned for a ban on these barbaric devices to be applied to Wales, with wildlife enthusiasts like you playing an integral role in making it happen.
With the Bill now making its way through the early stages in the Senedd, we were called upon to deliver evidence to the Economy, Trade and Rural Affairs Committee on 9 November. Standing alongside representatives from the RSPCA, British Veterinary Association (BVA) and the Anti-Snaring Campaign, we raised your concerns about the pain and suffering these cruel devices cause to animals while calling for the sale, possession and manufacture of snares to be outlawed here too.
With a debate and vote on the Bill expected in the near future, it won't be long until we're calling on your much-valued support once again. We want as many Members of the Senedd as possible to vote for the snaring ban, either in its current format or after it has been hopefully strengthened.
To find out how you can help, keep an eye out for our emails and on our social media channels, where we will keep you updated on any developments and calls for action.